Clubhouse Newsletter
September 2010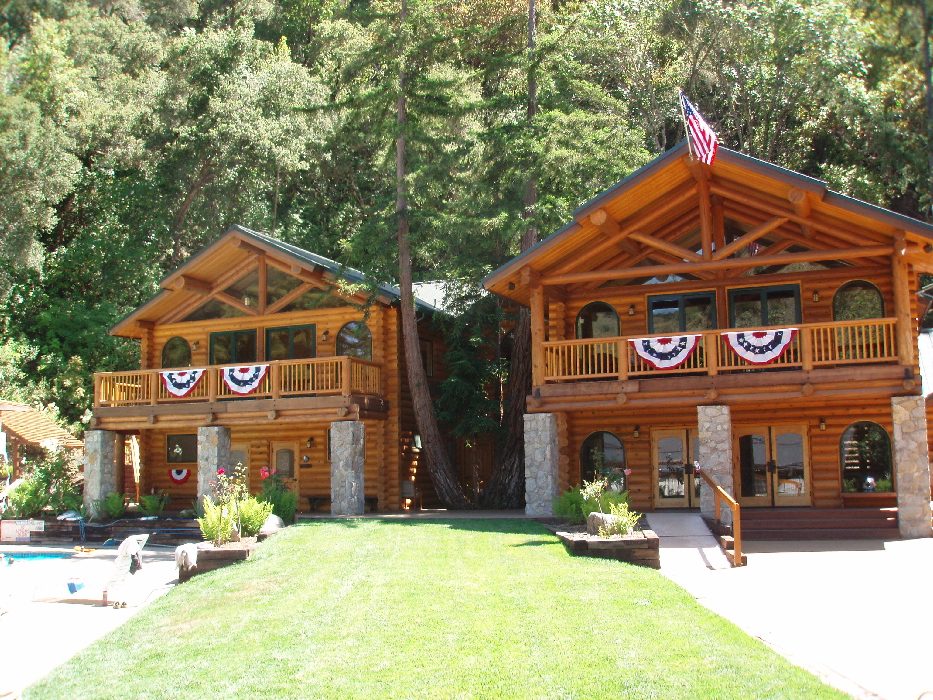 I'm happy to announce that after three years of hard work, I just received the Right to Occupy the Clubhouse. I will immediately begin to furnish the main rooms, while finishing the Kitchen & Bar will take a bit more time.
The entire time I've been working on the building, I've been thinking and talking about the best way to use and pay for the cost of this project. The following is a basic outline of the associated costs and expected uses of the Clubhouse for our members. Operating rules and membership will be covered in a separate addendum to your existing license agreement. The project has cost way more then I ever expected, even though we really did almost all of the work in house. Our current economy and the slow down in cabin sales made it more difficult for me to fund the project, but the Clubhouse will be a great asset to the Rancho for decades to come. To better understand how I arrived at the value of the Clubhouse membership, I've broken the costs down basically into thirds.
The first third I consider upgrades, improvements and new uses that go along with the established use of the Pool Area by your existing License Agreements. The cost for the new bathrooms/changing rooms with showers would be included in this, as would the new pump/mechanical/storage room. The new septic system, upgraded electrical, landscaping and the second bocce ball court costs all fall into this category, again at no additional cost to any existing Licensee.
The next third will be recouped long term through the Clubhouse itself. Income from the Clubhouse's facilities (food service, spa treatments, bar, overnight rooms, and onsite special events) will help defray its overall cost. I anticipate increased demand for Non Cabin (day-use) Memberships. This third will take the longest to recover, but looking at it as a long term investment in the Rancho's future...the most worth while. Added facilities and improvements, like the Clubhouse, increase the value of the entire Rancho including the cabins, a benefit for all.
The last third would be the portion which will be made back through a cost sharing membership. As I've stated before, access to the Clubhouse will be available to those who choose to participate in a separate, voluntary membership. The Club Membership will involve a one-time initiation fee (various payment plans will be available) plus an additional supplement to the annual Maintenance fee to cover the added annual expenses such as taxes, insurance, electricity and normal wear & tear. The initiation fee for the club membership will be transferable with the sale of a member's cabin. For those members who are Associate Members and want to participate, their parents' primary membership must first join the Clubhouse, and then a supplemental Associate Fee will be assessed.
I understand and respect that not all current members will join the Clubhouse. I do believe, however that over the next ten years or so, the vast majority of the cabin owners will be participating. At this time I do not have all the answers to all the situations that may arise in the Clubhouse's use. It is definitely still a work in progress. The primary function though is to provide an place for members to gather, socialize, play and have fun during periods outside of the normal pool area use time and season, i.e. nights and winter. The following is the basic outline of the Fee Schedule. There may be some situations not covered below, but this is the general idea.
PRIMARY (CABIN OWNERS) MEMBERSHIPS:
$5000.00 Charter Member cash introductory buy-in; must be purchased by October 15, 2010. Annual Maintenance fee supplement of $350 due every January 15th.*
$5500.00 Charter Member financed introductory buy-in. Minimum of $1100 down due by October 15, 2010, $1100 due the 15th of January each of the next four years (equivalent of a 5% interest rate). Annual Maintenance Fee supplement of $350 per year.
$7500.00 Initiation Fee after October 15, 2010 through all of 2011, $400.00 annual maintenance fee supplement.
$10,000.00 Initiation Fee for 2012 and after. $500 annual maintenance fee supplement.
ASSOCIATE MEMBERSHIPS:
Primary member must be a club member first. Since Associates are not vested in the Rancho the same way as the primary cabin owners, their club membership initiation fee is subject to either a 50% refund at time of their family's cabin sale, or the clubhouse membership can be transferred to the new owner if they desire the extra memberships.
* Annual Clubhouse Maintenance Fee is subject to normal CPI adjustments
$2000.00 One-time initiation fee (due by October 15, 2010) plus a $200 supplement to their annual dues.
$2250.00 Financed Initiation Fee, $450 due by October 15, 2010, then 4 additional payments of $450 due every January 15 plus a $200 supplement on your annual dues.
$3500.00 Initiation fee after October 15, 2010 thru the 2011 season.
$4500.00 Initiation fee for the 2012 season and beyond.
Consideration will be given to Charter Members whose families grow-up and children graduate to new Associate Memberships in the future.
The following is a list of amenities which definitely will be available. As time passes we will review what more is needed/not needed and the best way to utilize the space for the most fun. I'm in the process of ordering most everything, and will also be supplementing some furnishings with what the Dormody family and others have donated. At first, using some available used furnishings will allow me to see just exactly how things will wear and tear before spending thousands on fine furnishings.
1. Key code access to the clubhouse for you and your family and guests (all children under 14 and guests must be accompanied by adult member).
2. One personally monogrammed Locker in changing room, first come first serve.
3. Workout room will include weights, at least one treadmill, spinning cycle etc.
4. TV Room/Library includes big screen TV for movies or the big game, and lending/reading Library.
5. Game Room includes Ping Pong, Dart, Pool Table, Foosball, Card/Bridge tables, Continuous Puzzle table, and video game console (Wii).
6. Fireplace Living Room. A comfortable place to come and relax, talk with friends, have a drink and just hang out.
7. Private Dining/Meeting Room
8. Access to the Sauna Room
8. Reduced rates for private party use of clubhouse
9. Reduced rates for spa services
10. Access for use of overnight guest room
11. Access to movie and book sharing Library.
12. Access to computer for checking email and limited internet access**
13. Invitations to special functions and parties. ***
14. Organized game and activity nights.
** At least for the time being, internet access is by satellite only which has strict bandwidth control (FAP) which prohibits online gaming, video, skype and other high bit usage.
*** There will be at least one party/event each season with food and fun, costs of which will be equally shared by all who participate.
MISCELLANEOUS & FREQUENTLY ASKED QUESTIONS
Guests: Guests will be allowed to access the clubhouse when accompanied by members and charged the normal Rancho day use guest fee. At this point, unaccompanied guests will not be allowed independent use.
Access hours: The clubhouse is fully covered by closed circuit TV cameras. I fully realized that I can not be everywhere all the time. People have different schedules, some want a work out early in the morning, while others want to play cards late into the night. I think a basic starting point is . We'll see how it is working from there.
Private Parties/Events: The Clubhouse will be available for private parties and events. There is a private dining/meeting room for smaller groups and larger groups can be accommodated too. Our total maximum Occupancy is 200 people.
Spa treatments: Starting in the spring/summer of 2011, It is anticipated that various professional therapists will be available by pre-scheduled appointments over the weekends...and beyond if demand is there.
The Sauna: I am really pleased how nice the sauna turned out. I anticipate it will be open for use starting next weekend (9/10). At this point it is too nice to have just unlocked and open to all. Members will have the key code for access, if not in use, it takes approximately 30 minutes to warm up. Children under 14 must be accompanied by an adult, and it will be adults only after . More specific guidelines will be given upon joining.
Overnight guest room: The old bathhouse remodel is almost complete. It's original use was to be a high end spa treatment room, but due to circumstances out of my control that has all changed. I will be working with the County to use this room as a overnight guest room. I'm sure this will involve collecting Transient Occupancy Tax. Members would be able to reserve this room for their guests when they are up and their cabin is already full.
Children: Use of the Clubhouse is restricted for children under the age of 14; they MUST be accompanied by their parents or a responsible adult. For ages 14 through 21, children of members are on provisional usage, if they abuse the rules, cause damage, or are caught drinking underage, their access will be revoked and can only come with their parents. Members are responsible for all damages caused by their children.
Please do not hesitate to ask more questions and/or submit ideas for use. The best way to reach me is my email at bdormody@mbay.net. I've put a lot of thought and effort into all this and I really hope everyone can see the benefits the Clubhouse will add to the overall experience at the Rancho.
Sincerely,
Bruce