CABINS FOR SALE
There are a total of 103 cabins located on San Clemente Rancho. Many are located along some portion of the creek which runs through the property. Usually there are a few cabins which come up for sale. The following is a list of the cabins that are currently on the market. Click on the photo of the cabins to see more pictures of each unit. All prices for the cabins listed are asking prices, offers are accepted.
---
CABIN R5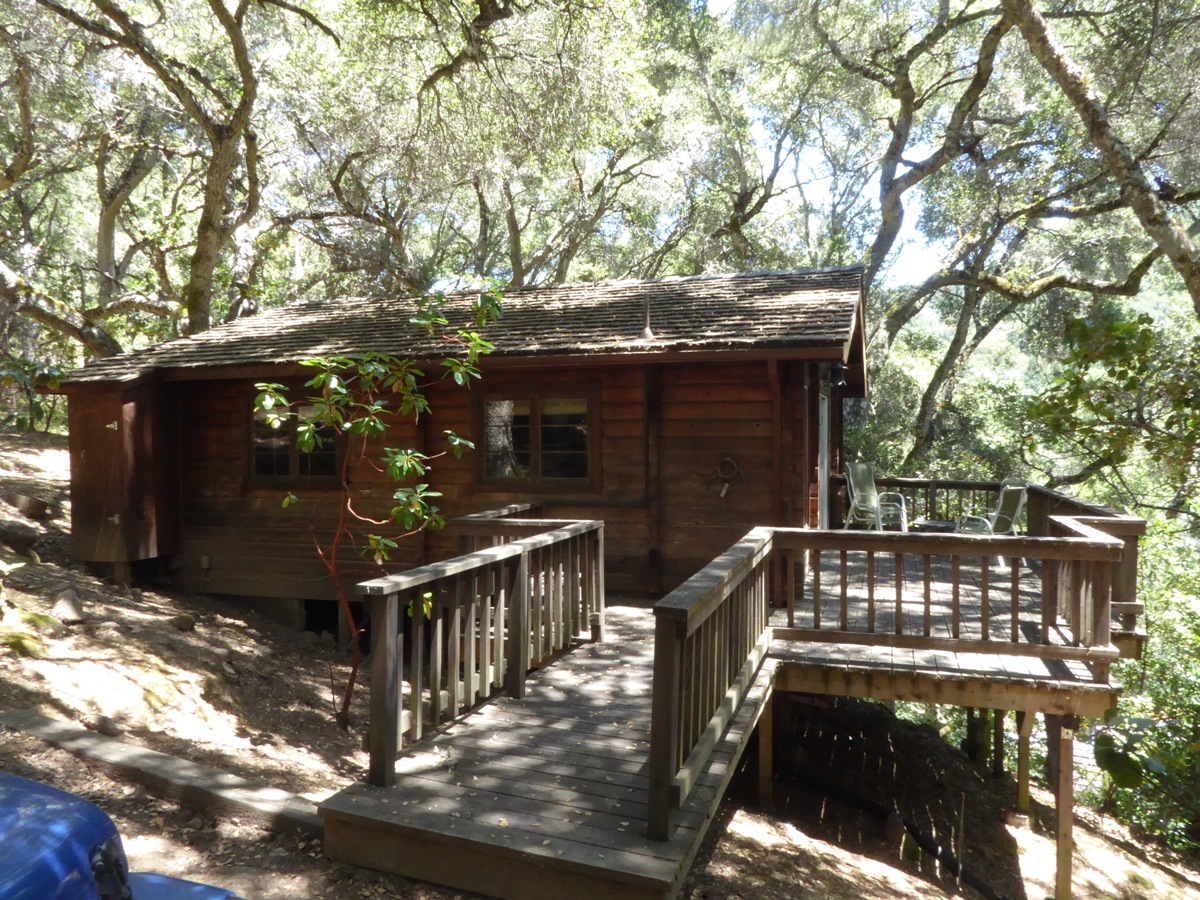 This is a true cedar log cabin. With two bedrooms and one bath with a nice deck out front. SALE PENDING
---
CABIN 85
Nestled in a green valley, this cabin (one bed/one bath plus a large loft and a free-standing screened room) is perfect for enjoying peaceful moments in nature. A great value asking just $187,000.00.
---
CABIN 11
This is a great little creek side A-Frame cabin with one bedroom and a loft. The front deck overlooks a portion of the year round flowing San Clemente Creek. Reasonably priced at $189,000.00
---
CABIN R9
Cabin R-9 is a beautiful 2 bedroom 1 and 1/2 bath mountain home. Built in a quiet area of the Resort this tri-level home with large decking has valley views and is bordered by a small creek. It also has a large storage area beneath house. SOLD
---
CABIN 75
The closest you may find to Thoreau's Walden pond. Idyllic and private location on Trout Lake within the Rancho San Clemente. Four bedrooms and three full baths, this newly constructed log cabin is replete with all modern conveniences This is the first time this cabin has been on the market, opportunities like this do not present themselves very often.

Price Reduced to $950,000.00.
---
CABIN 80
Unique tastefully decorated and fully furnished one bedroom/one bath cabin surrounded by an abundance of natural beauty and wilderness land. Located at the end of the road and at about 1000 ft elevation, it is a very private and peaceful vacation home with a spectacular view, sunny exposure and all the comforts of a cozy mountain home. Asking Price Reduced $199,000.00
---
Currently these are the cabins for sale, when others come up for sale, they generally they range in price from the mid $100,000.00's on up depending on the size, location, age and quality. This site is updated regularly to reflect the most current listing of cabins available. If you don't see exactly what might suit you, contact us and we'll try our best to find you the perfect fit. Last updated March 4.
---
Home
Recreation
Cabins
Map
Members
Contact